The modern-day office space is no longer the stuffy, cubicle-dense humdrum locale where stuffy suit-and-tie types are isolated from their cohorts. Innovation has permeated every industry in operation today and executives realized long ago that to capitalize on an ever-changing global economy, the key to success is their employee base. Concepts like casual Friday and lunch-and-learn on the company's dime still have their place, but today's worker is a different breed: an inventive, forward-thinking individual who operates outside the box and leverages technological advancements to crush conventions and shatter expectations.
Thusly, business leaders – the ones that are serious about carving out legacies in their respective arenas – subscribe to one undeniable theory:
A happy employee is a brand's most valuable resource.
Stand Up and Deliver
It's amazing how as simple as standing up after having sat for a long time – or vice versa – can make a difference in someone's day. Prolonged sitting has earned the condemnation of health care experts worldwide, with some going so far as deeming "sitting as the new smoking." It leads to poor posture, tight muscles, back pain, decreased energy levels, and a litany of other problems. Office furniture manufacturers made a well-informed attempt to tackle this issue years ago with the introduction of the standing desk, and while such fixtures do work in some instances, it only addresses one component of the ergonomic conundrum: workstation height. Take a moment and imagine the following scenarios:
· You have multiple employees who need to access a single workstation
· Your specific office layout finds your computer desk situated against windows or other areas where screen glare is a very real nuisance
· Space is at a premium in your location, and the notion of even attempting to bring in a standing desk isn't feasible
For some, having to "imagine" the above scenarios requires no more effort than opening their eyes and staring at the reality that is their floorplan. Luckily, a solution is available and ready to answer the call of all in need. It's the Cotytech Sit-Stand Track Mount, and all it asks from you is just a little bit of wall space.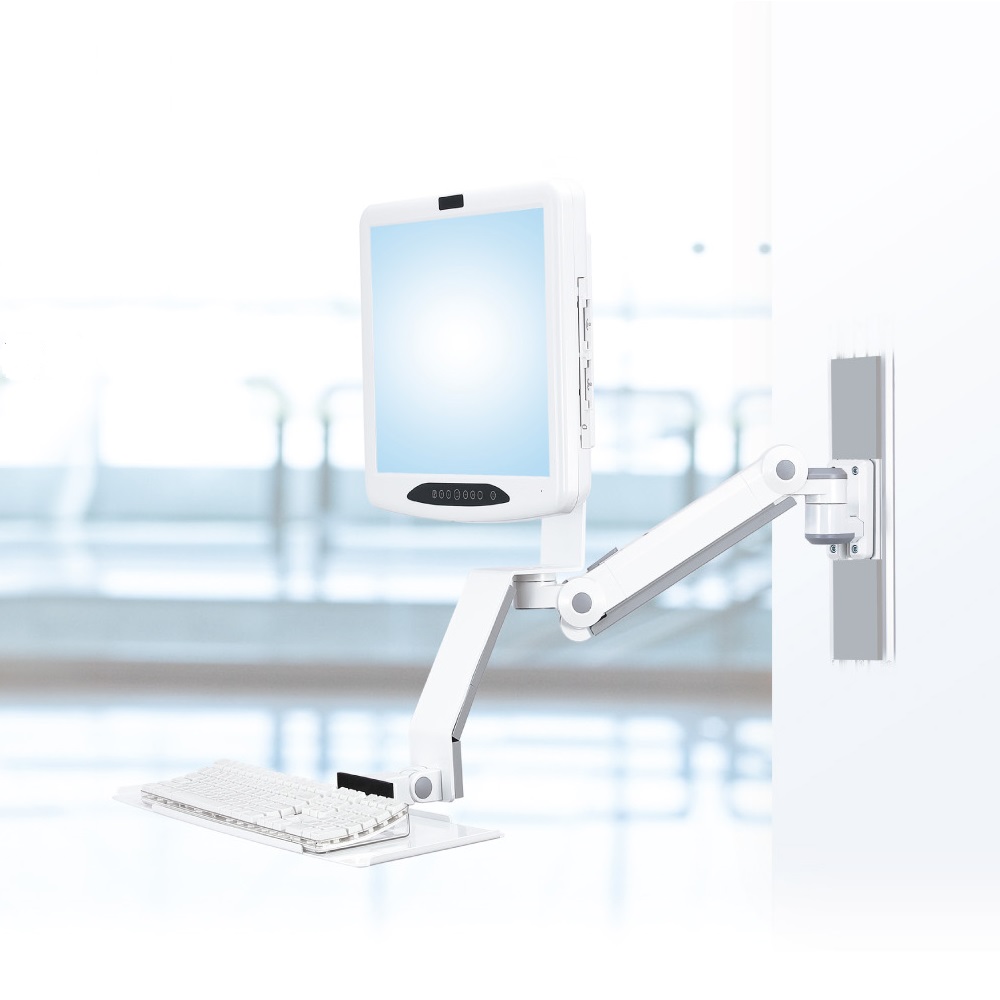 Positioning Improves Perspectives
Think we pulled a bait-and-switch by lulling you in with the promise of discussing great new office tech and instead hit you with health advice? Maybe, but consider this: your health is your greatest asset, as is everyone's on your payroll. And improving your employee's health is as simple as implementing a computer mounting solution that offers the flexibility of position changes whenever they'd like. The Sit-Stand Track Mount offers a simple, affordable device that delivers a bevy of benefits. Utilizing a 37.5" track provides over three feet of height adjust for
those who do their best work while standing. Pneumatic gas springs are favored among many manufacturers for being low maintenance and reliable, which is why they were the only option considered when looking for a quick way to allow for height adjustability. And once the screen is at the preferred location, a steadfast lock secures it into place to reduce wobble and unsteady viewing.
Effortless height adjustment is a big deal, and the first time you realize that frequent position changes can make a huge improvement in the workday, you'll wonder how you ever lived without it. But sitting and standing is just one plane of motion; how do you address what to do if several people need to view one screen, or if less-than-optimal lighting positions create screen glare?
You reposition the screen.
The Sit-Stand Track Mount is built with articulating arms that allow up to 90˚ of workstation swivel. And that's 90˚ at each arm, of which there are two. The mounting bracket itself provides additional amounts of tilt, swivel, and rotation at the screen. No matter where you are; no matter the time of day; no matter the layout of your office or your workstation – with the Sit-Stand Track Mount, the best view is always right where you are.
Bonus Benefits
Like many of Cotytech's premium mounting solutions, the Sit-Stand Track Mount is constructed from aluminum alloy, and for many good reasons. It's lightweight, yet reliable. It's rust-resistant and easy to clean. And it's impermeable to microbes and bacteria – a feature perhaps more important now than ever before. A built-in cable management system organizes and hides all the necessary wires away so as not to disrupt the aesthetic appeal. And while on the topic of looks, the clean, white exterior will complement any environment, from professional to casual, health care to home design, and everything in-between.
Prefer a PC or Mac? Your device of choice is welcome on the Sit-Stand Track Mount as long it's VESA compatible and fits within the weight limits (17.6 lbs. or upgradeable to 33.1 lbs.). And utilizing a space-saving design, the keyboard tray can be folded up and out of the way, perfect for touch screens or just for the end of the workday.
Movin' and Groovin'
As much as the industry has been involved over the decades, so has the fundamental design of the workplace. Your staff not only expects a professional environment that augments their abilities to perform at their best: they deserve it. With the Sit-Stand Track Mount housing their tech and delivering an unparalleled workplace experience, they'll never again feel shackled to an office chair and subjected to a boring, and oftentimes painful, a day at the office. Productivity should never come at the expense of an individual's well-being, and thanks to innovations in computer workstations, it never has to again.