Flat-screen TVs are no longer the premium indulgence they once were, but many consumers still open up their wallets and fork over their hard-earned cash for a new flat screen with all the bells and whistles, only to take it home and plop it down on a cheap, inferior stand. Far worse are those who commit the cardinal sin of hanging their new home entertainment hub on a flimsy, poorly constructed wall mount. As television technology has advanced over the years, so have the mounts used to display them. Manufacturers have risen to the call to build out solutions designed to enhance the end user's experience.
Thankfully, purchasing just the suitable mount to complement - and enhance – your home viewing experience is no longer the chore it once was. All-in-one products, such as the Full Motion, Dual Arm TV Wall Mount for 42-71" screens, now reign supreme over outdated mounts that only afford a scant few options or cut corners on craftsmanship in an attempt to beef up some other aspect. And, just as home entertainment technology is improving by the day but still managing to keep price points in check, so is the mounting market.
Seeing is Believing
When you bought your TV, you were probably lured in by the floor model displays at your local retailer. Those darker hues, millions of colors, and backlit pixels likely beckoned to you, and the thought of enjoying your favorite shows, sports, and gaming in photorealism from the comfort of your couch was too good to pass up. And none of those qualities mean a thing if your screen isn't positioned in a way that allows full, unobstructed viewing. The chances are good that the demo that caught your eye wasn't encumbered with the same mounting challenges that you'll likely experience when it comes time to hang that new screen in your home. All living spaces are not created equal, and when walls, corners, and home décor present a challenge, you'll drive yourself crazy if you try to utilize an outdated, stationary mount.
As wall mounts have improved over the years, manufacturers have integrated features to address the unique issues encountered in hanging screens. Features like tilt, swivel, roll, and extension are quickly becoming standard in models, and never should you settle for anything less than a unit that incorporates all of these view-enhancing options. When an annoying glare Is bouncing off your screen, rotate or swivel it to a better position. Have issues read subtitles or the stock ticker on your favorite news channel? Extended the TV closer out from the wall. Effortless adjustability is key to providing stellar views and getting the most out of your new investment.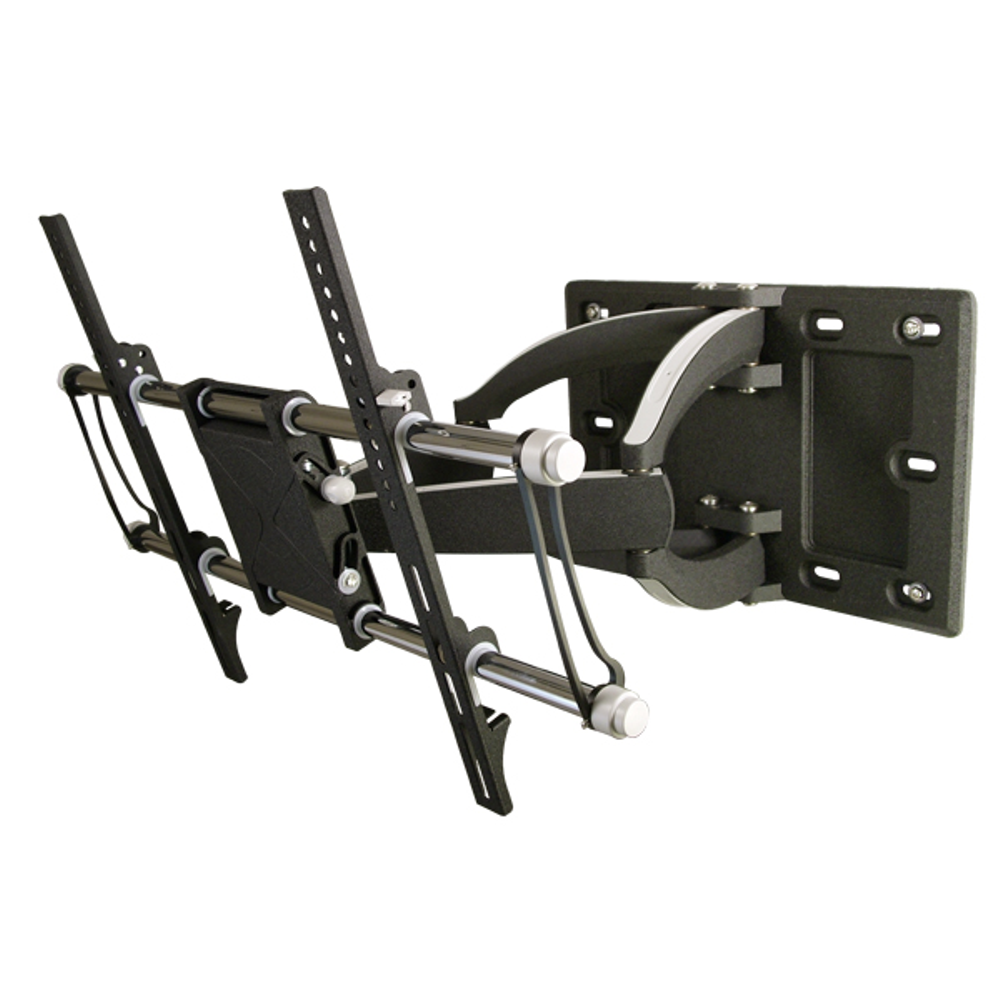 Solid As a Rock
Anyone old enough to remember the glory days of tube televisions can also recall those behemoths' sheer weight and size and likely didn't shed a tear upon their passing. With the ushering in of the modern flat-screen display, so arose the desire of folks wanting to hang their screens on their walls, a feat nearly impossible with antiquated sets of yesteryear. And while everyone wanted a sturdy mounting solution, the last thing anyone wanted was a heavy, cumbersome piece of metal just begging to create lasting damage to their walls.
Striking the right balance between fashion and function was a delicate balancing act but necessary for the home entertainment market. While some manufacturers continue to struggle to create the right hybrid, others, like the screen mounting professionals at Cotytech, extensively leveraged research to find durable materials that were also lightweight. Diecast aluminum frames are easy to install while providing a measure of reliability and durability that owners can feel confident in. Secure your screen on a mount like the Full Motion, Dual Arm TV Wall Mount for 42-71", and it's staying there until you choose to move it.
Easy In, Easy Out
The current state of the home entertainment market is full of sleek, sexy devices that can add instant appeal to any home interior. Regardless of their purpose, all of those ultra-modern appliances share a single commonality: They all require electricity. That means you're going to be plugging things into a wall, and cords are ugly, even more so when they're tangled into a confusing mess and dangling halfway down your wall. An ounce of prevention goes a long way in keeping those cords from becoming jumbled while also prolonging the life of your products by preserving the integrity of the power source and reducing the likelihood of electrical shorts and frayed wires. Easy on-and-off screen mounting is a benefit that you'll appreciate more once you've experienced it first-hand. It eliminates the hassle of trying to maneuver behind your screen by creating a simple point of entry. That means no more excuses when it comes time to clean and tidy up behind your television.
The Mount For Now … and Later
Even as consumer viewing habits have changed over time, the home television continues to be the most coveted home entertainment product. Screens have gotten larger, a trend that will likely continue for as long as the market demands it. And bigger screens will continue to present new needs for those whose hub utilizes a wall-mounted screen as its focal point. Purchasing new tech is a fun experience, and enjoying those shiny new devices is something that only comes around every few years, so enjoy it. Shopping for wall mounts probably doesn't rank as near enjoyable as buying the TV that'll hang on it, but it's a necessary step. With a comprehensive mounting solution such as the Full Motion, Dual Arm TV Wall Mount for 42-71", your mount can support any new screens you purchase today and will still be available to install any you buy on down the line. And each one of those TVs will look just as good at home as it did in the store.