Not all monitors are created equal. You've probably already assumed as much, but the reality is that displays differ in ways more than just height or weight. It's why at Cotytech, we manufacture mounts for various industries, as well as accessories that can help mount screens in situations that may have previously been thought to be insurmountable.
One instance that can sometimes present unique challenges is installing more than one screen onto a single mount. The tricky part isn't handling multiple screens, as we stock a wide assortment of mounts capable of securing up to nine displays on an individual mount. The difficulty is in just how to connect the screens to the mounting bracket when the hole arrangement on the back of the screens is arranged in a manner that isn't typical.
Don't fret; we've got a solution!
When The Going Gets Tough …
If you've never mounted a monitor before or have limited experience doing so, then the situation may seem foreign to you. Generally, the process is quick and simple, requiring nothing more than a few hand tools. Monitors have holes in the back, which must be aligned to the corresponding holes located on a mounting bracket. Connect the two with a few screws, and you're all set.
The holes in the back of the monitor are often found right in the center, but users will encounter a model that bucks this trend every once in a while. One such situation arises when using the 28" Samsung LU28E510DS/ZA screens. These particular displays have mounting holes located near the top of the back. This isn't so much of an issue when just hanging one screen, but multiples, on the other hand, can be problematic.
… The Tough Get Creative!
Displaying multiple screens on an individual mount is preferred by many businesses due in part to its cost-effectiveness. But since our mounts are built to very specific guidelines, a bit of creativity may be required for those instances that may be out of the ordinary.
One such case is when there's a need to display three separate monitors in a vertically stacked, one-on-top-of-the-other setup. If the mounting holes happen to be located near the top of the screens, we have a quick and straightforward fix.
Start by selecting our BL-DM137 mounting unit. Before adding it to your shopping cart, make sure to choose the extra-long pole length, which is 43.3" in height. Finally, opt for the additional spring arm adjustability for each screen (you'll select this based on the individual weight of each monitor). This configuration is optimal for displaying three individual screens with mounting holes located off-center, as it provides all the vertical clearance necessary to accommodate each of the monitors.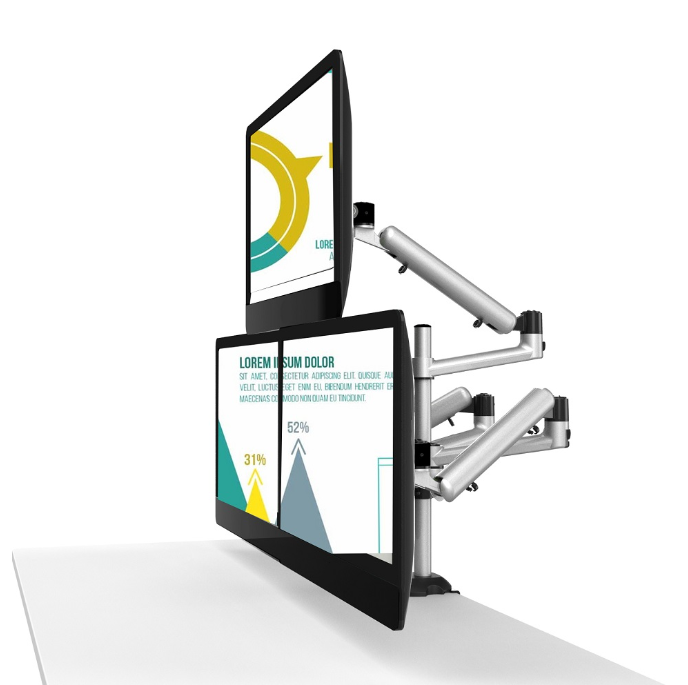 ​
Never Say Never
It may seem daunting, challenging, or even downright impossible. But if you have monitors that need to be mounted, rest assured that we have a solution to fit your specific needs! And if you're worried about potentially causing damage to either your screens or your mounting surfaces, send us a message before you begin any work, and we'll be glad to walk you through the process.
​