Specifications
| | | |
| --- | --- | --- |
| | Weight Capacity: | Supports up to 10kgs (22lbs) for each monitor |
| | Tilt: | 30° / - 30° (armed) 15° / - 15°(armless) |
| | Swivel: | Max 360° (armed) 180°(armless) |
| | Maximum extension: | 29.5" (750mm) for each monitor mounted on arms |
| | Mounting Pattern: | VESA compliant: 75x75 and 100x100 |
Accessories
Monitor Mount Front-end Adjuster
Features
Desk-mountable; Pole length: 19.69". Longer pole options available; Supports up to three 24" monitors in one row
Available in clamp base and grommet base
Clamp table thickness: 0.28" - 2.53" (7 - 64.5mm)
Grommet table thickness: 0.28" - 2.53" (7 - 64.5mm), Hole Diameter: 0.49" - 2.75" (12.5 - 70mm)
Supports three LCD monitors, at the same or different heights, two with triple-arms and one short arm
Three monitors can be positioned landscape or portrait, side by side straight, side by side in an oval shape, one on top of two, or one on each side in a circle.
Increase efficiency by using multiple applications simultaneously, eliminating toggling back and forth between documents and programs.
May lift LCD screens to suitable heights for supreme ergonomic comfort.
Maximum adjustment rendered by tilting, swiveling, pivoting, and height adjustment.
Smooth, fingertip tilt in all directions
The unique 360° arm swiveling feature allows users to share a screen with their close neighbor or the one across the desk, making this perfect for selling and training environments.
May be used to support a laptop by using the

Mountable Laptop Tray

Portrait and landscape rotation
Solid aluminum alloy construction
Maximum productivity and comfort
Clean look with minimal hardware visible from the underside of the work surface
Base Types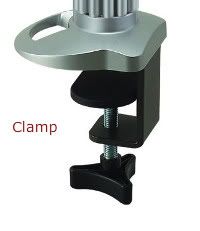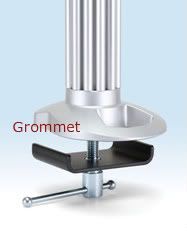 Product Description
Our state of the art Triple Monitor Desk Mount DM-T1A3 is a full-motion LCD monitor mount with a weight capacity of 22lbs (10kgs) (for each monitor). Featuring -/+ 30-degree tilt, 360-degree monitor rotation, 360-degree swivel & 29.5-inch full extension for the two side monitor, with the center short arm providing -/+15 degree tilt, 180-degree monitor rotation, and 180-degree swivel. This desk mount is ideal for classrooms, offices, public area, industrial settings, production line, and many more. This multiple display desk mount renders maneuverability, flexibility, and a chic look that is sure to flatter your LCD monitor. The mounting bracket boasts integrated strength through the latest engineering technology and is tested for durability in our offshore manufacturing plant. The Cotytech triple monitor desk mount has been built with the end-user in mind. It features easy installation while offering intuitive, practical & functional design from one of the leading manufacturers of desk mounts.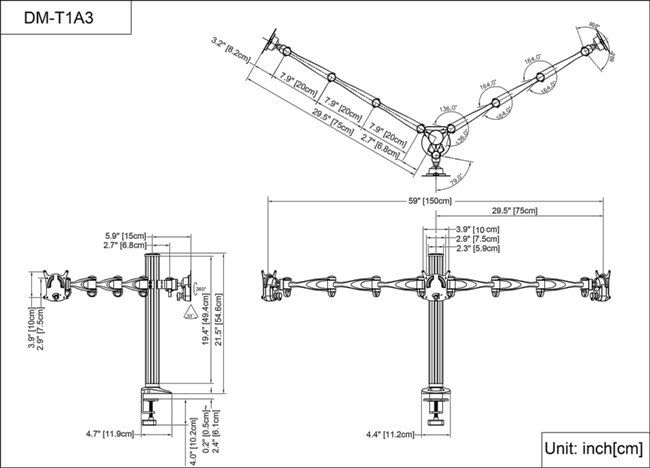 Downloads

Installation Manual
These downloads require Adobe Reader. To get Adobe Reader to click here.
Q: What is 'Front-end Dynamic Height Adjuster'?
A: It's an accessory that allows a monitor to slide up and down along it to make height adjustments. For more information, please click here.
Video