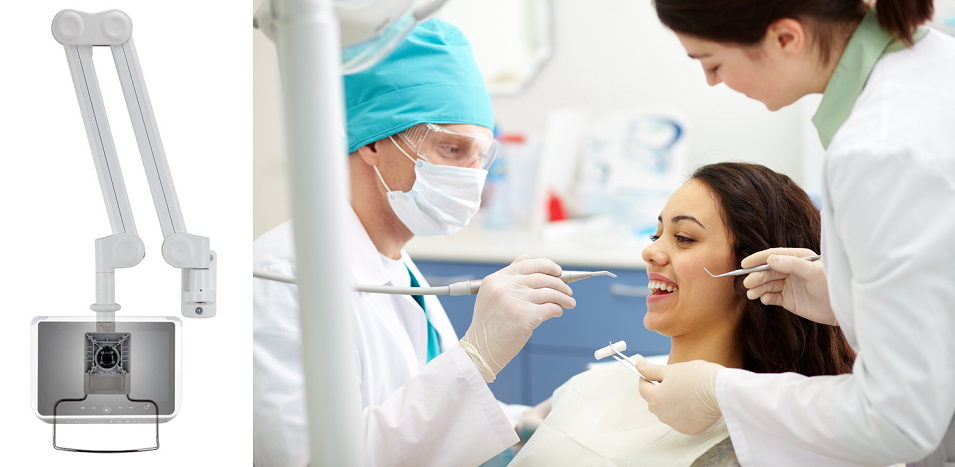 It would be nice if you could hold your smartphone or laptop computer during dental procedures, but unfortunately, you can't. One hand might already be holding a dental instrument. That is why every professional dental clinic should have one of our Cotytech Long Reach & Vertical Adjustable MW-M16P Monitor Arms . This is the Long Arm of Dentists.
Dentist Essential: Long Reach Monitor Arm
Typically, your patient will be sitting reclined in your dental chair. Your chair is easily adjustable to optimize the patient and dentist's comfort levels. You might take X-Rays and want to show the patient what you see on a computer display monitor. Our Monitor Arm is perfect for this task. Just prepare the images and grab the monitor arm with one hand. This allows you to continue to sit next to the patient. The ease of movement will make the patient more comfortable during the procedure. It will also save time. Our Long Arm extends up to 64 inches easily and smoothly. You can operate it with one hand. Our built-in gas pneumatic spring design allows it to tilt, swivel and rotate easily. It is easily installed.
Comfortable Dental Surgery
While viewing the pictures, your patient might have some questions. You can point out details and explain what they mean. When you and your patient are satisfied, you can move the adjustable display out of the way. Due to being vertically adjustable, you can efficiently operate it without standing up from your chair. During the dental procedure, you might discover some problems. You can assign the dental assistant to rinse the patient's mouth while you review the display. You can also discuss the images with your assistant. You want your patient to be as comfortable as possible. The patient may have been given some local anesthetic to help with pain alleviation. Our Cotytech adjustable monitor arm allows you to complete your job with ease.
Long Arm of Dentists
You only have two arms and one assistant; sometimes, you need a little help. After you purchase your Cotytech Long Arm Monitor Arm, you will wonder how you did without it. This is a must-have for any serious dentist. Our Long Reach MW-M16P Monitor Arm is ideal for positioning for patient or dentist viewing. We, at Cotytech, have listened to our customers. We want to give your dental clinic the tools you need to succeed. Every well-equipped dental clinic needs Cotytech extendable monitor arms . Get yours before they are gone.