Features
Priced per pair (2 pieces)
Each stand supports speaker up to 44lb (20kg)
Durable and stable construction made from metal
Suitable for all kinds of speakers with placing surface around 7.48" x 8.66" (19 x 22cm) from all different brands such as Bose, Yamaha, Polk Audio, etc.
Height adjustments range: 25.59" - 45.28" (65 - 115cm)
Speaker wires no more than 0.74" (19mm) in diameter can be routed through the pole for a neat clutter-free appearance. Please refer to the third image above for more details
UPC Code: 661799162159
Product Description
The
Speaker Stand for Large Size Height Adjustable SP-OS10
is an ideal surround speaker stand for your home theatre. Suitable for all kinds of speakers with placing surface around 7.48" x 8.66" (19 x 22cm) from all different brands such as Bose, Yamaha, Polk Audio, etc. up to 44lb (20kg). This speaker stand features height adjustment range of 25.59" - 45.28" (65 - 115cm) to help achieve the best surround sound effect. Speaker wires no more than 0.74" (19mm) in diameter can be routed through the pole for a neat clutter-free appearance.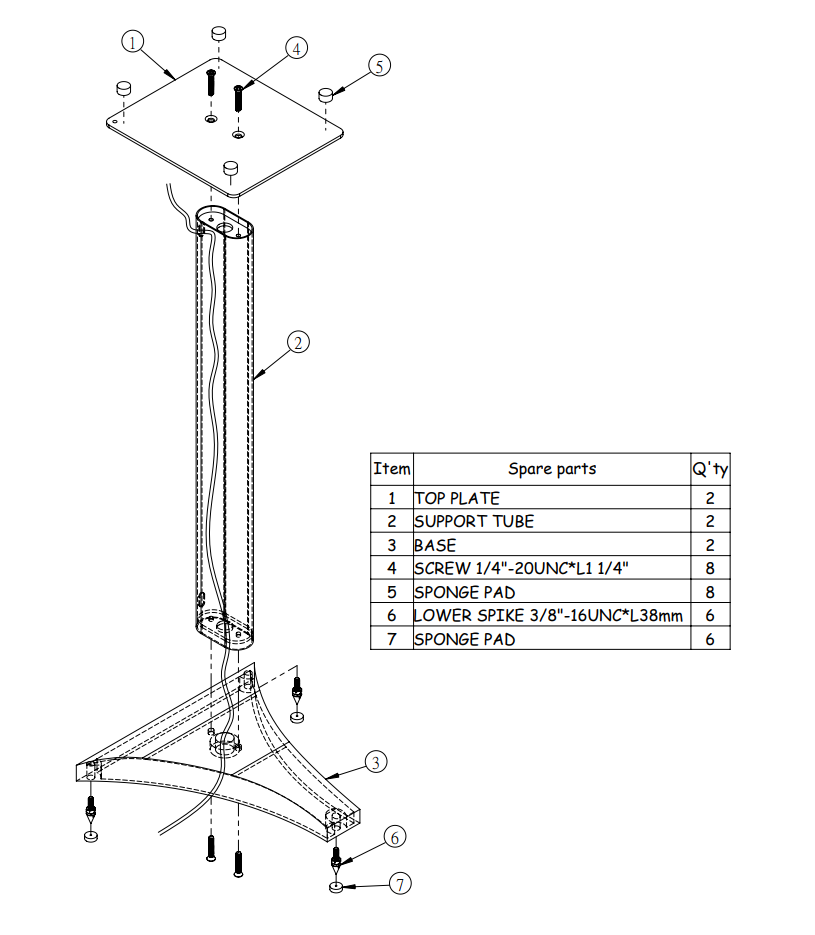 Downloads

Installation Manual
These downloads require Adobe Reader. To get Adobe Reader to click here.
Q & A
Q: If I add a quantity of '1' to cart, will I get 2pcs for two speakers or just 1?
A: We sell them by pairs. So you will receive a quantity of two for two speakers.
Q: If my speaker is 7 1/8" X 8 7/16", a bit smaller than the stand surface of 7.48" x 8.66" (19 x 22cm), will that not look nice?
A: It will look fine since it's only a bit smaller than the top plate.
Q: Is the height adjustment completely variable or just two choices (65cm or 115 cm)?
A: Yes, it is entirely variable.
Video