Speakers can be mounted in a wide variety of positions, including both internally and externally, and positioning of the speaker brackets and stands can make a major difference in how this is accomplished. Contemporary speakers that are light and have mounting slots included in the enclosure design are relatively simple and can be positioned similar to Ipad mounts or tablet mounts. However, mounting sub woofers and powered speakers can be more challenging because they commonly have significant weight from either the encasing or internal power amp, or both. Although cosmetic appearance or optimum sound delivery are important, safety can be equally as important when speakers are being mounted externally using wall brackets. The desired result is for all speakers to remain in position on the mount with minimal drilling into the speaker cabinet. If the speakers are ported and thread for screws, this can be an easier task. But, there are a few things to remember.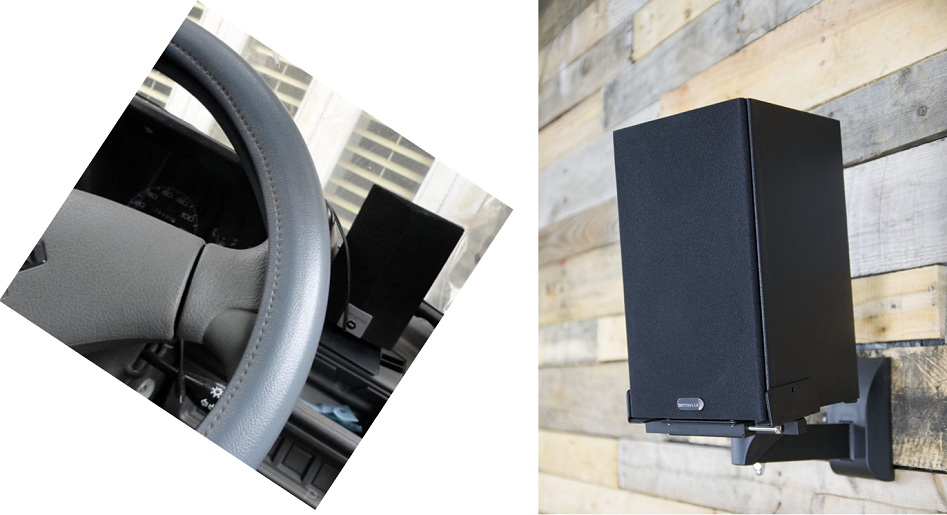 Setting Mounts in Homes and Offices
The first step is picking the right spot for the speaker mounts to be placed on or in a wall. Always locate the wall studs before beginning and know exactly where the speakers will be perfectly positioned, especially if ports must be cut out of the wall. External mounts should be connected to the wall and positioned directly in front of the stud with the mounting screws secured as tightly possible. Speakers that are mounted internally should also have a mounting bracket surrounding the speaker for more security.
Setting Mounts in Vehicles
Mounting speakers and devices in a vehicle can be challenging as well, and the device mount will often be designed for a specific place, such as an Ipad headrest mount. Safety concerns with vehicle mounts are important as well, especially regarding distraction potential for drivers. The distraction reduction should also be combined with user friendliness, especially if the sound is being transmitted by a connected headset. Speakers that are being mounted in a vehicle should be placed in the mounting ports that are designed for the vehicle unless they are already mounted in enclosures and can be positioned obscurely in the vehicle. It is important to choose speakers that will fit the vehicle design because buzzing can occur easily when large speakers are not properly connected to the mounting brackets. Vehicle can be modified just like setting mounting brackets in buildings, but sometimes the vehicle mounting surface must be modified in some manner, which should be avoided when possible.