| | | |
| --- | --- | --- |
| | Weight Capacity: | Supports up to 44lbs (20kgs) |
| | Tilt: | +90° / -25° (provided there is no obstacles) |
| | Rotation: | 90° (portrait or landscape) |
| | Swivel: | Max 360° |
| | Mounting Pattern: | VESA compliant: 75x75 and 100x100 |
| | Maximum extension: | 4.3" (109mm) |
Features
Designed for the following Apple Monitors:
24-inch iMac (aluminum and glass)
27-inch iMac before 2013
24-inch LED Cinema Display
27-inch LED Cinema Display
27-inch Thunderbolt Display
21.5" or 27" iMac

with Built-in VESA Mount Adapter after late 2012


27" iMac Retina

with Built-in VESA Mount Adapter


27" iMac Pro

with VESA Mount Adapter


32" Apple Pro Display XDR (2019)

with VESA Mount Adapter

. Please be sure to choose the option of '32" Apple Pro with VESA Adapter' AND be sure to purchase the VESA Adapter for this model from Apple
If your Apple monitor is not listed above, please contact us for solutions.
Wall mount type
The bracket features quick release design: only a matter of a 'click' to get connected and with the push of a button then lift off to get disconnected
Height Adjustment Range: 9.4" dynamically with Front-end Adjuster option
Maximum adjustment rendered by tilting, swiveling, pivoting, and rotation.
Swift and easy movements and adjustments
Solid Aluminum die-cast construction
Space-saving with its compact design
Rotation 90° and side-to-side pivot
Maximum productivity and supreme ergonomic comfort
Easy installation and dis-installation
Color: Black
Product Description
Monitor Wall Mount for Apple Heavy Duty Quick Release integrates fashion with function, delivering ergonomic performance with style. With a weight capacity of 44lbs, this Apple display wall arm features 90-degree monitor rotation, +90 degree / -25 degree tilt, and 360-degree swivel. The monitor mount is ideal for classrooms, offices, homes, public areas, industrial settings, production line, and many more. This LCD wall support renders maneuverability, flexibility, and a chic look that is sure to flatter your monitor. The single monitor mount boasts integrated strength through the latest engineering technology and is tested for durability in our offshore manufacturing plant. The Cotytech monitor arm has been built with the end-user in mind. It features easy installation while offering intuitive, practical & functional design from one of the leading manufacturers of monitor mounts.
More Information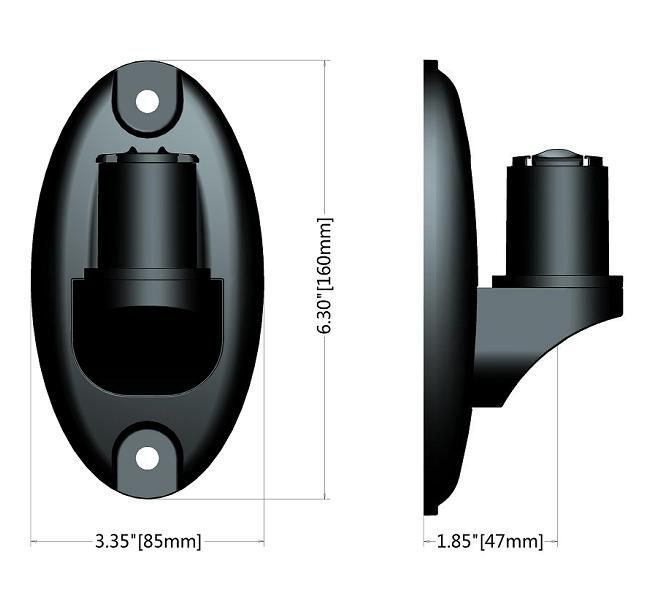 Q: Will it work for 'iMac Pro'?
A: You will need to purchase the 'VESA Mount Adapter Kit for iMac Pro' from Apple. Then it will work.
Q: Will it work for 32" Apple Pro Display XDR (2019)?
A: You will need to purchase the VESA Adapter for this model from Apple. For this mount, please make sure to choose the option of '32" Apple Pro with VESA Adapter' with the answer of 'Yes,' then it will be compatible.