Features
Long reach arm extends up to 72" with ease and smoothness
Wall mount type for flat panel ranges 2.2 lb to 13.2 lb
Built-in gas pneumatic spring design for extreme ease of operation and movements
Instantly and effortlessly float flat screen from position to position
Maximum adjustment rendered by tilting, swiveling and rotation
Covers can be opened to put in cables (cables not included)
Concealed cable management for neatness and secure performance
Comes with wall box to hide electric outlet behind
Monitor back cable cover is included
Sturdy construction made of aluminum alloy with outside plastic covers
Easy installation and dis-installation
Color: White
Specifications
| | | |
| --- | --- | --- |
| | Weight Capacity: | Supports 2.2 - 13.2 lb (1 - 6 kg) |
| | Tilt: | 15° / - 40° (display) & 20° / - 60° (arm) |
| | Maximum extension: | 72" (182.5cm) |
| | Rotation: | 370° (arm); 370° (display); 180° (wall) |
| | Mounting Pattern: | VESA compliant: 75x75 to 100x100; Optional 200x200 |
Mounting Pattern
You may usually find mounting patterns dimensions on the technical drawing page of your owner's manual. Otherwise, you can measure from the center of one hole to the center of the next (both vertical and horizontal). Please remember to measure in millimeters. Feel free to contact us if the mounting pattern of your LCD is different, and we are delighted to help you out!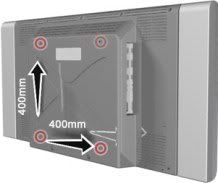 Product Description
Our new Monitor Arm - Long Reach w/ Wall Box MW-M123WBN features built-in gas pneumatic spring design for easy and smooth movements, allowing instant floating of LCD monitor from position to position. This LCD wall mount provides a maximum of 72" (182.5cm) straight extension. The articulating arm is a perfect solution if you need to float your LCD monitor around or above settings like workstation, manufacturing equipment, assembly line, etc. The wall mount solution can be rotated 370° at the arm, 370° at monitor end, and 180° at the wall connection for optimal viewing angles. When not in use, the unit can be folded up and out of the way, an excellent space-saving feature for any room. Concealed cable management not only makes the whole unit more neat looking but also enhances secure performance. This simple and contemporary looking durable arm is made of aluminum alloy with plastic cover outside. Its ergonomic, space-saving attributes, and contemporary look make the LCD wall mount a practical choice in businesses, offices, doctors' offices, clinics, dental operatories, hospitals, and factories. Please note that the monitor is not included.
Dimensions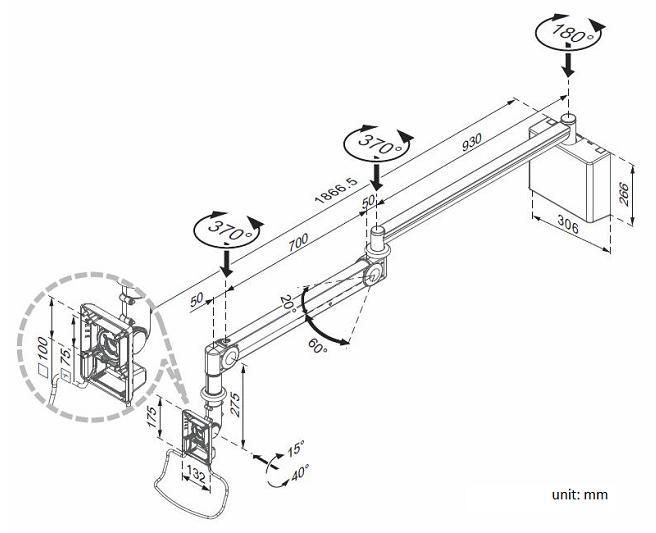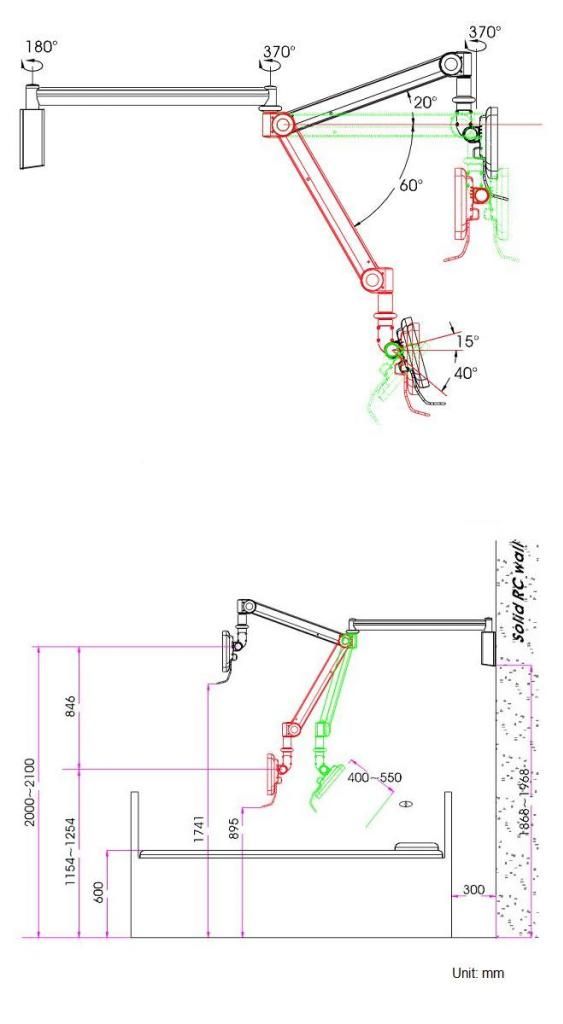 Comparison Chart
Notes: MW-M16P is vertically adjustable.
Video (shows in the sequence of cantilever wall mount with a wall box, with wall plate; ceiling mounts; A-Frame wall mounts)