Product Description
Mobile Computer Workstation - Adjustable, Modular, Ergonomic is a modular system of components that, when combined, create a versatile range of mobile or static environments. The mobile work stand includes the dual-arm LCD mount bracket, a tempered glass mouse/desktop shelve, an ergonomic keyboard arm and tray, a secured all-size CPU, or UPS holder and a printer or paper stand. The computer pole stand has 68.9" (175cm) overall height, and it's fully mobile with two locking and three non-locking casters. The LCD monitor mount is VESA compatible 75x75 to 100x100 with a weight capacity of 22lbs (10kgs). The mobile workstation is constructed of lightweight yet durable aluminum and steel materials. It's ergonomic, portable, space-saving attributes and high-tech look make it an attractive choice in all types of businesses, office, trade-shows, mall kiosks, retail stores, factories, band, schools, hospital, internet cage and even at home. All parts are 100% height adjustable. Please note that the monitor, keyboard, mouse, printer, and CPU are not included. If you need to customize with more or less attached modules for this workstation, please feel free to contact us at (888) 891-9321 or via email at sales@cotytech.com.
Accessories
Features
Supports monitor weight up to 22 lbs
VESA standard 75x75 and 100x100mm
Solid aluminum alloy construction
Pole length: 68.9" (175cm)
Approx. 32" wheel diameter, convenient to move through doors.
Sturdy mobile base with five casters, two lockable
All modules are 100% height adjustable
The monitor can achieve 40° up/20° down tilt
Monitor arm can swivel, and 360 degrees rotate for portrait/landscape positioning
Cable ties or clamps along pole and arms for neatness
Semisphere tempered glass platform diameter: 28"
Sleek design provides extra workspace
A great addition to any room setting
Moves to accommodate multiple users, sitting or standing.
Ergonomic solution with easy installation features
Package includes: 1 pole; 1 monitor mount; 1 glass platform for workspace and mouse; 1 glass platform for large size keyboard (103 keys); 1 glass platform for the printer; 1 compute holder; 5 roller wheels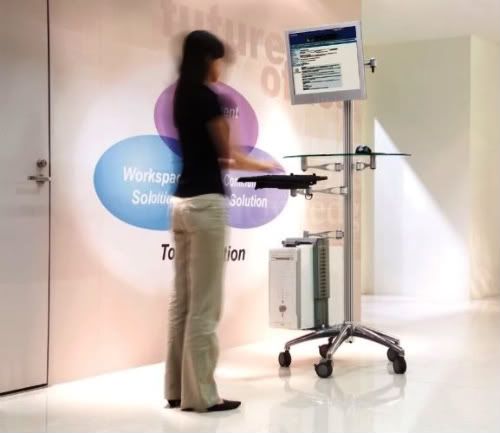 Downloads

Installation Manual
These downloads require Adobe Reader. To get Adobe Reader to click here.
Q & A
Q: Can I put additional monitors on this workstation?
A: Yes, you can by adding either the 21"-long arm or the short arm.
Video