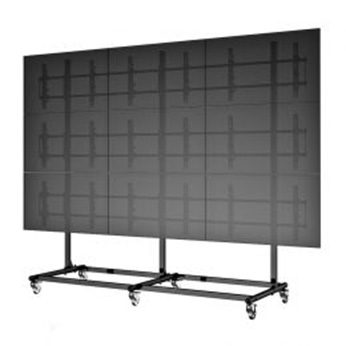 There are many good reasons why you would want your message on a video wall. For businesses big and small, this powerful visual installment plays a vital role in branding. Video walls can be used in all industries whenever there's a need for high-quality and engaging visual content.
Here's how to make a video wall from scratch in six easy steps.
But first,
What Is a Video Wall, Exactly?
A video wall consists of multiple screens that are arranged together to make one large screen. Video walls enhance resolution and quality, achieving a highly engaging and powerful visual effect. They're incredibly flexible and versatile - their uses are virtually limitless.
How to Make Your Video Wall
To aid you along your video wall building process, you'll need to ask yourself these six questions:
What kind of impact do you want to achieve?
You need to know who your end-user is and what the goal of this investment is. Do you need to impress your stakeholders during board meetings or to engage new customers?
What kind of environment do you have in mind?
Will the wall be installed indoors or outdoors? How spacious and well-lit is this area? Will you be able to access the video wall for maintenance?
What kind of content do you want to display?
How large is your visual content, and what format are you working with? This is an important factor when making a video wall. You may need a content upscaling and formatting solution too.
What type of displays do you need?
Consumer or commercial? LED or LCD? The type of video wall displays depends on the size, space, and content you have in mind.
What other video wall components do you need?
In addition to displays, you'll need media players, display mounts, and suitable cabling.
Do you know how to operate a video wall?
If this is your first video wall, you should opt for simpler solutions requiring limited special skills. That way, you'll be able to calibrate, operate, and maintain the system yourself.
Taken together, the answers to these questions will provide you with a framework for building your first video wall. Don't forget that a video wall is a costly investment. If you've decided to make one, it would be wise to think ahead and plan a system you'll use in the future.
Alternatively, Consult Cotytech
Here at Cotytech, we have a wide selection of video wall equipment, as well as ready-made systems that you can start using right now without a complicated installation and calibration process. We have over 30 years of experience within the monitor industry and endless happy customers.
Contact us today to make your video wall together today!