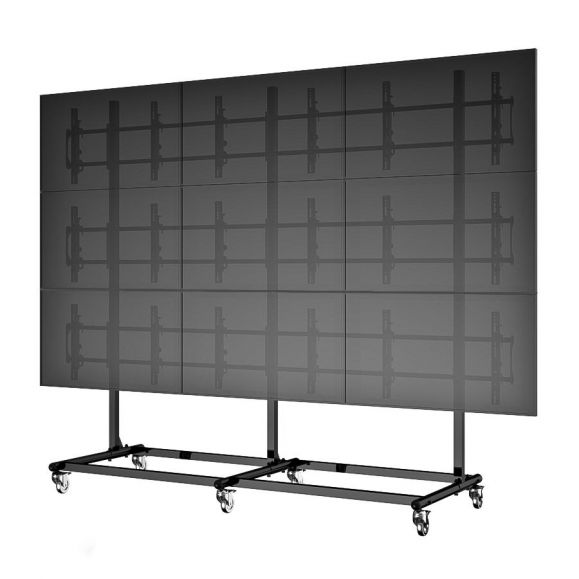 Video walls can be an excellent addition to any space. They're easily customizable to suit any needs and can be as small or as big as you'd like them to be. They can be installed in small offices, churches, and even on amusement park rides.
They do have a great appeal. However, if you've been looking to invest in a video wall for your business or home, you've probably noticed that the prices vary greatly. Some video walls that appear to be next to identical can have vastly different price tags.
So, to estimate the approximate cost of your video wall, you'll need to know everything that factors into its price. Let's have a look:
The Screen Size & Resolution
As expected, the size of your video wall will have a huge impact on its overall cost. Bigger screens will often come with a higher price tag, but what influences their price the most is the resolution and pixel density. A higher pixel density will offer you a clearer and sharper image, so depending on your needs, you might want to opt for a higher PPI (pixel per inch).
If you want your video wall to have additional features, such as touch-screen capabilities, you can expect to pay more.
So, while you can get a basic LCD display for as little as $1,200, you'll need to invest upward of $30,000 for a higher quality LED screen with additional features.
Video Wall Mounts
You cannot have a video wall without a quality video wall mount. Again, the price will depend on your needs and the size of the screen.
You can get an expandable 1X3 video wall mount for as little as $725. If you need a six or nine-screen mount, you can expect to invest about $1,800.
Video wall mounts can come as a simple stand; they can be expandable, or even micro-adjustable. Investing in a mount on wheels offers you more mobility and flexibility, and is excellent for offices. Cotytech is a leading provider of video wall mounts, so for a more concrete estimate of prices, browse our selection now.
The Better the Processor, the Higher the Price
The most important factor that influences the overall price of a video wall is the processor, also known as the video controller. It's the brains behind your video wall, and it's what will allow you to have a seamless and smooth transition between images and videos across multiple screens of your video wall.
You can choose between a hardware-based processor and a software-based one. The former ones have been in use for years and can come at a price as low as a few hundred dollars. Software-based video wall processors use networking equipment and can run on your PC. Their prices vary and can go all the way up to $30,000.
It's generally better to invest more in a higher-quality processor since it will dictate the quality of your videos and images.
Content Management Software Can Greatly Affect the Cost
You can choose between two options when it comes to your content management software – you can either go for the pay-per-license or opt for streaming software.
The streaming software is typically cheaper and requires you to pay a small monthly or annual fee. If you go for the flat pay-per license content management software, you can expect a higher price depending on your needs.
Video walls can transform any space, and they come at prices that can fit almost any budget. As a rule of thumb, it's better to invest more in products of the highest quality that will provide you with the best features. And for any video wall mounts or accessories, shop with Cotytech today!