Think of the increased productivity and enjoyment that is possible when you have dual monitor mounts. See everything from multiple viewing angles. Our Cotytech Dual Monitor Stand Side by Side Oval or Straight w/ Quick Release improves life.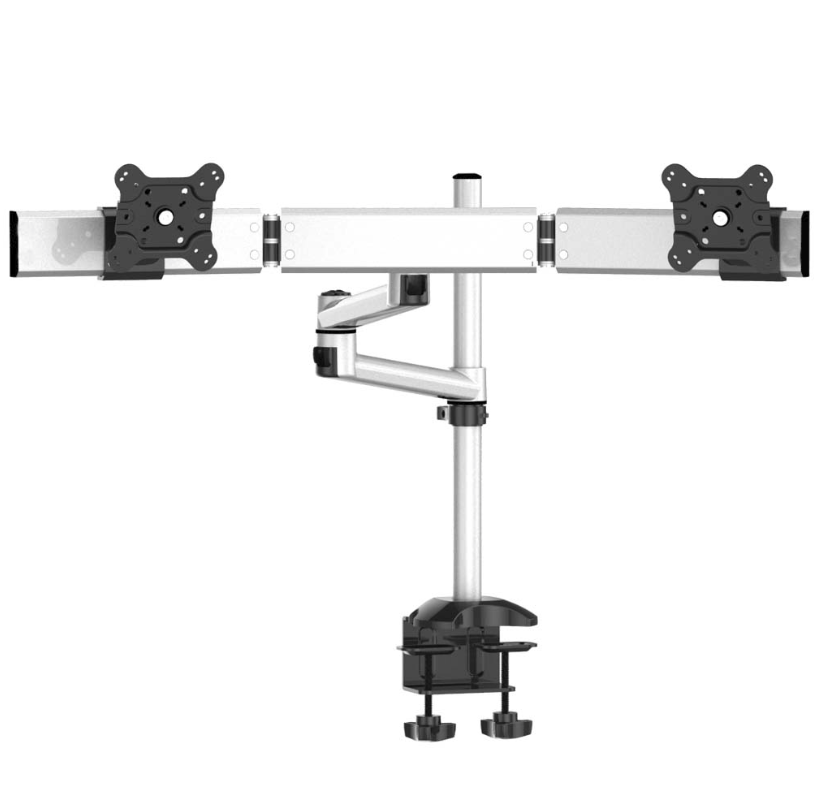 Two Heads Are Better Than One
There are many reasons for multiple displays today. At work, a dentist or doctor might want to have various angles to complete a procedure. Security officers would be able to see the entire scene of a crime with different viewing angles. Gamers could gain a distinct advantage in competition when they have two monitors side by side. Do you love sports? You could watch Real Madrid and Barcelona on separate screens to see how a win or loss will impact the Spanish Football League standings. The possibilities are endless. And, that is why we made the Dual Monitor Stand Side by Side Oval or Straight w/ Quick Release, BL-DM155. This stand supports up to 66 lbs. The tilt is plus 90 degrees or minus 25 degrees. You have a maximum swivel of 360 degrees for superior adjustability. It is desk mountable.
Dual Monitor: Dual Angle
Avoid marital disruption by having a monitor for HIM and a monitor for HER. Or, the father can watch his sports, and the children can watch their cartoons. Our Cotytech Dual Monitor Stand w/ 2-in-1 Base BL-DM155 gives you options. It provides advanced technology to make everyone happy.
Cotytech Multipurpose Stands
We create versatile stands and mounts at Cotytech. We know that your environment might have a lot of nooks and crannies in it. We provide you with the ability to modify your displays to get the best viewing angles. Our dual monitor mount can be rotated for portrait or landscape viewing. Wouldn't you love to see your favorite online game in a landscape orientation? You could see different parts of the battlefield that others couldn't see. You won't need to crane your neck at odd angles. This is also better for bystander viewing. If you play games with your crew, then they can all see you dominate the action. You are the most productive when you are the most comfortable. We, at Cotytech, hope to give you a better vantage point for all that you do. Life is faster now, so keep pace with a Dual Monitor Stand w/ 2-in-1 Base BL-DM155. Double your productivity with dual monitor mounts from Cotytech.