Keeping pace with the rapid advancements in the technological arena is that of the durable medical equipment (DME) market. As the needs of a population that refuse to accept limitations are ever-changing, manufacturers are steadily producing an extensive catalog of innovations capable of modifying the static aesthetic of gadgets to allow for an all-inclusive experience.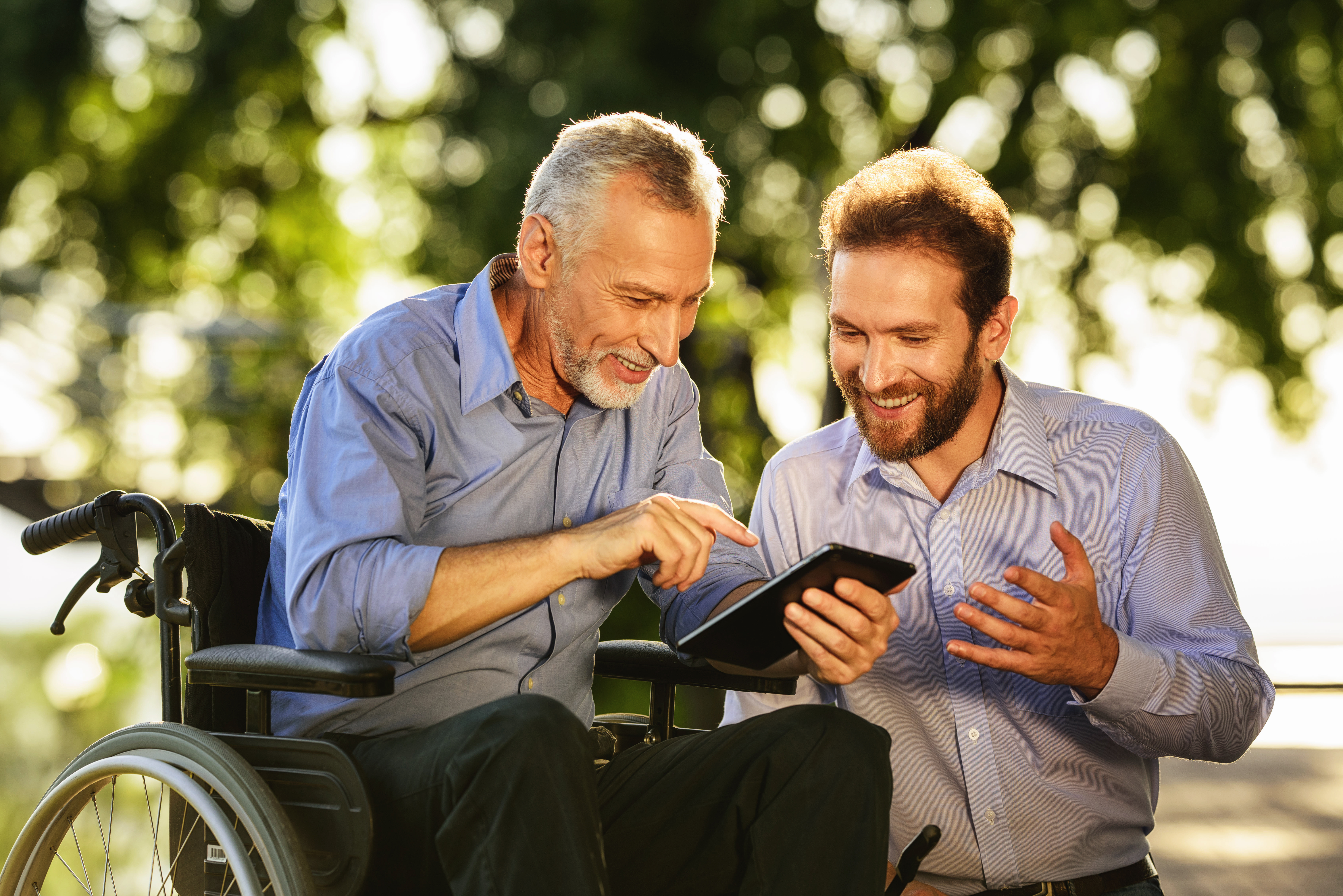 Second only to the mobile phone, the tablet is a marvel of modern research and design that differently-abled individuals are utilizing to bridge traditional interaction methods in the workplace and at home. With app stores brimming with programs suited for both productivity and entertainment, tablets have nearly eliminated the barrier of entry for those whose specific situation may not allow for the use of traditional keyboard input. Even so, transporting a tablet or finding a way to use one while within a wheelchair can be challenging.
The Cotytech Wheelchair Tablet Mount
Those who rely on wheelchairs for mobility have grown accustomed to outfitting their assistive device with whatever accessories and expansions are necessary to help navigate their day. A popular choice is the tablet mount. But just as tablets and wheelchairs differ across product lines, each with their own inherent set of features, so can the mounts themselves.
A favorite among many, Cotytech's iPad and Tablet Wheelchair Mount was built to ensure that, out of the box, users were afforded a solution that could perform to the expectations of anyone in need of a wheelchair mount.
Features Make the Mount
Multiple degrees of adjustability is imperative for those with range of motion limitations and/or deficits in fine and gross motor skills. Achieving the optimal viewing angle is completed by various adjustments made possible through several points of articulation. This includes:
Extension and retractability – this allows the overall positioning of the tablet itself. Set it high for taller users and those on thicker wheelchair cushions. Adjust it down for shorter people or in circumstances where cervical kyphosis or decreased core strength presents situations were sitting upright could be difficult. Also, should the wheelchair have a reclining back, extension, and retractability further increase end-user enjoyment with adjustability that can bring the screen closer when they're laying back?
Tilt – move the screen up or down to avoid aggravating glare from overhead lights or windows. Also beneficial for those who wear bifocals or have reduced cervical mobility.
Rotation – spreadsheets are best viewed in landscape, word documents in portrait. 360

°

of rotation will let you put that tablet in whatever viewing orientation makes the most sense for your documents, games, movies, and TV shows.
Any mounting product is only as good as the features it delivers, and the iPad and Tablet Wheelchair Mount can be contorted and positioned in a countless variety of angles, made possible through:
360

°

of tilt
0" - 15" of extension
360

°

of rotation
Before purchasing any accessories, make sure it checks off all the necessary features on your personal list. It's also worth considering the primary user's personal situation, the current state of mobility, and level of independence before making a purchasing decision.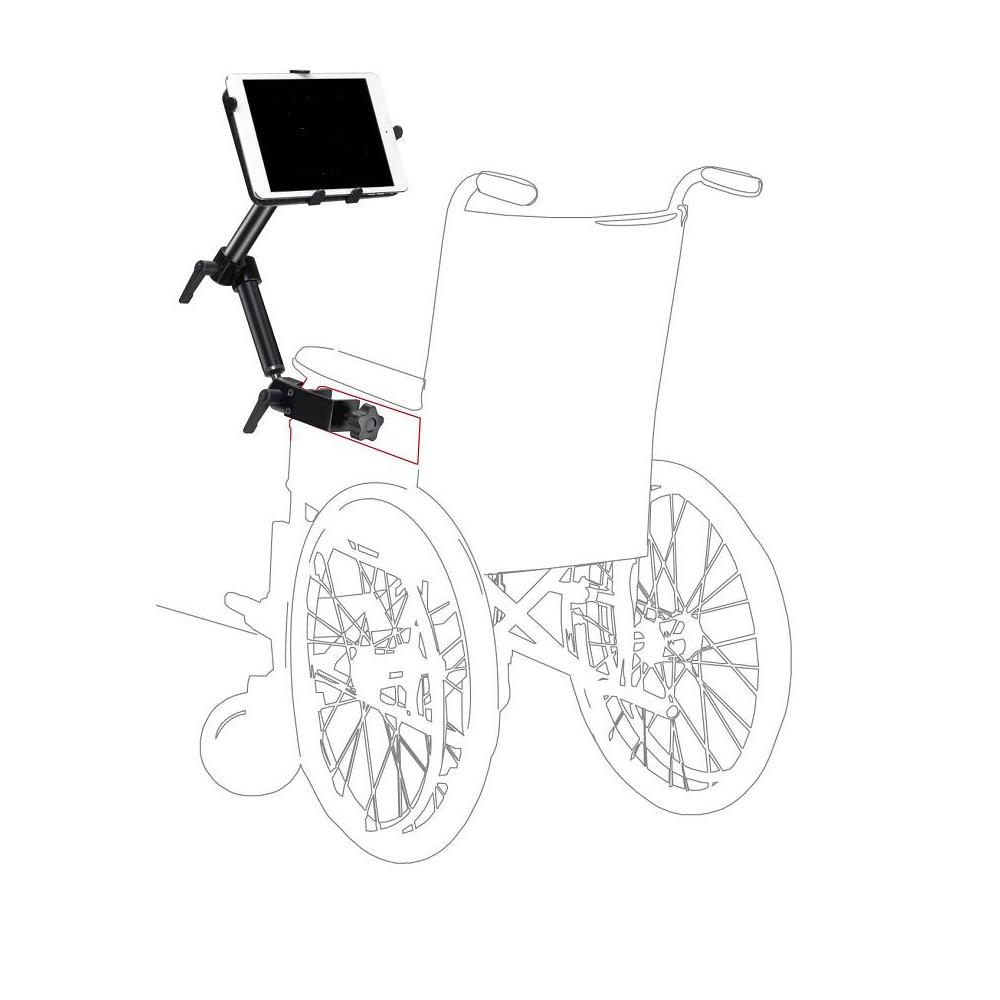 Simplicity and Sturdiness
Enhancing the quality of life by allowing mobility is the purpose of a wheelchair. Still, a point of consideration for users, especially those who self-propel through upper extremity use only, is whether the extra weight of any additional devices can create a burden by increasing the overall weight of their chair. Luckily, traditional 7" and 11" tablets are fragile and lightweight and only becoming more so as technological advances continue to slim down the raw materials used in their construction. So mounts needn't be excessively bulky or heavy, but they must be durable, withstand the occasional accidental bumps and dings, and maintain a firm hold on the tablet. Built from sturdy aluminum and ABS steel yet weighing only a meager 1.85 lbs. and employing a firm grip tablet surface, the iPad and Tablet Wheelchair Mount can stand up to the normal wear and tear encountered throughout the day.
Easy installation is a key component of every mounting device that Cotytech produces and sells. It's a driving factor behind why an abundance of hospitals around the world trust their digital displays to Cotytech's mounts, and that same approach is why you'll love this wheelchair mount. Easy installation and uninstallation are a must, for those moments when transporting a tablet just aren't necessary. This is also beneficial when folding up the wheelchair prior to storing it away in a closet or the car's trunk.
Unencumbered Independence
Using a wheelchair for mobility is accomplished by either one of two ways – being pushed by someone else or, as is encouraged in those with the capability to do so, self-propulsion. It's an important learning process that facilitates environmental awareness, safe community navigation and maintains a measure of upper body strength. Thus, it's not difficult to envision the difficulties that could occur if a mount creates a barrier to reaching the wheels.
As previously mentioned, high degrees of adjustability make it easy for users to enjoy an optimal viewing experience. Still, an added benefit to having several articulations is the ability to position the mounting arm out of the way prior to propulsion. Also, a static mount can decrease the field of view in busy environments such as skilled nursing facilities (SNF) or hospitals. When on the move, effortlessly adjust the tablet out of the line of sight for matters of safety.
A Meaningful Mounting Solution
Just as monitors and television screens can benefit from mounting hardware constructed to ensure prime viewing angles, so can mobile devices realize that those with specialized needs face challenges inherent to using a tablet. At the same time, in a wheelchair, Cotytech's team has crafted a solution that's durable, dependable, and capable of providing great views from a multitude of sitting and reclining positions. A mount that ensures all-day comfort without compromise and doesn't burden or otherwise create unnecessary problems in wheelchair propulsion, the iPad and Tablet Wheelchair Mount is an effective way to instill independence into the lives of those in need.
For more information and to order the iPad and Tablet Wheelchair Mount, click here.