Even as the home entertainment experience has slowly migrated from the traditional television screen to those of mobile devices, laptops, and tablets, there's no fear of large-screen displays becoming extinct any time soon. For many, they're still the epicenter of leisure and relaxation, a focal point where the family gathers around in the evenings to indulge in favorite shows, sports, and news. And, most likely, that flat screen marvel of modern technology is safely secured to a wall or resting upon a shelf in your entertainment center.
But out in the world of industry, where daily meetings are held to construct new ways to drive business, where products line store shelves and compete for shopper attention, and where health care workers converge and discuss breakthrough medical care for their patients, the implementation of a large screen can be both beneficial and necessary. Likewise, so is the need for that screen to be mobile, easily transported, and safely secure.
Mobility Matters
There are a plethora of benefits to be had when choosing to outfit a large, flat-screen display with a rolling cart: reduced overhead by eliminating the need to purchase multiple additional screens, accessibility to those where mobility may be a challenge (as in the case of hospital patients), and prime positioning when a visual element can add a touch of flair to a display. But simply retrofitting an old cart with a few wheels does not a suitable rolling solution make – there are just too many factors that warrant being taken into consideration. Things like ergonomic adjustability for the screen and a sufficiently wide base to prevent accidental tipping or being pulled over, especially in moments of haste. And, believe it or not, the actual type of wheels used can be all the difference between a smooth, rolling transition from one spot to another or a herky-jerky experience that's troublesome and looks amateurish.
One cart, in particular, designed from the ground up and ticking off all the relevant boxes for those in search of a comprehensive rolling mount, is Cotytech's 56" - 70" TV Cart. Instead of making a few diminutive modifications to standard, outdated carts that may have fit the bill decades prior and passed the whole affair off as a mobile solution, the entire unit was built to provide mobility and stability to screens in the aforementioned size range, with weights up to 200 lbs. Imbued with must-have view boosting features and a schematic that complies with workplace ergonomic standards, the result is a rolling cart that's likely going to change everything you thought you knew about mobile mounting solutions.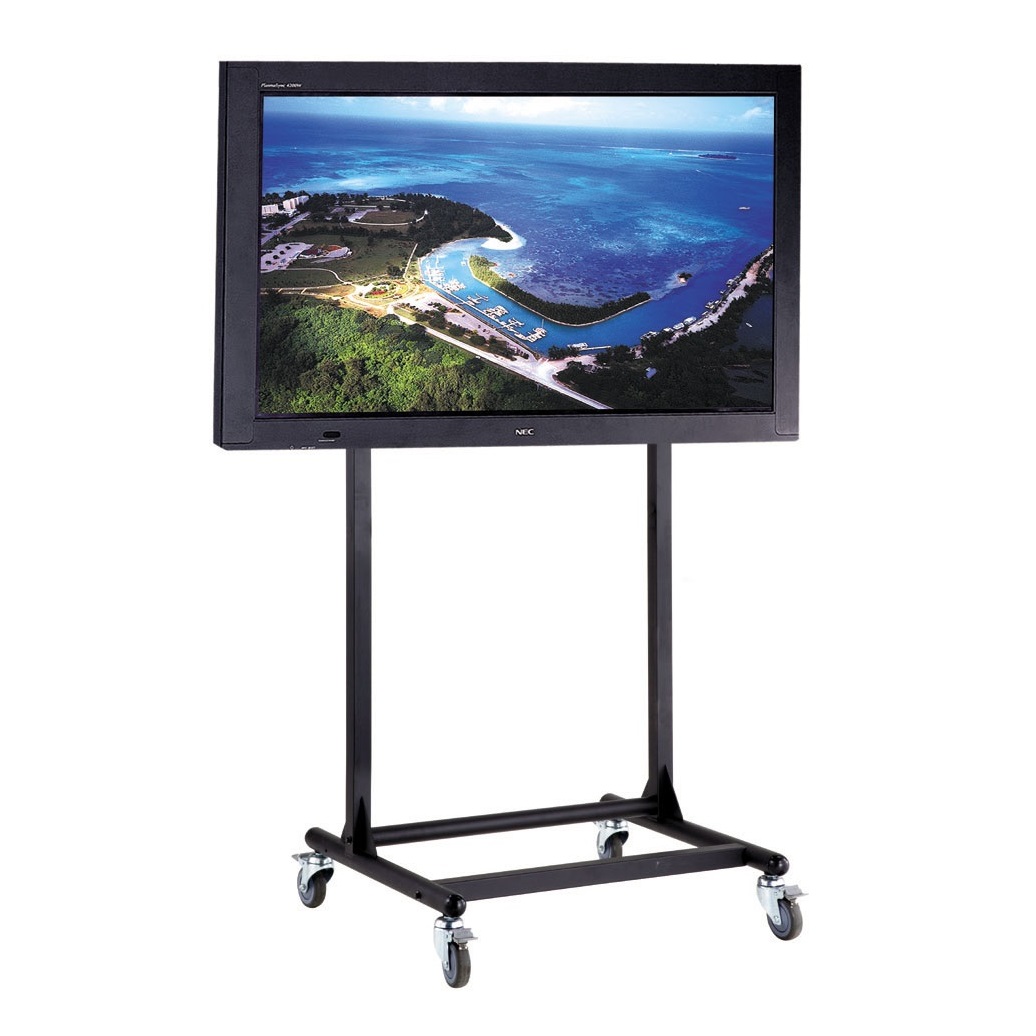 News Ideas for New Technology
Starting from scratch afforded the engineers at Cotytech a blank canvas to create upon and provided the opportunity to pick apart what worked – and what didn't – with previous rolling mounts. Dictated largely by the various environments in which the display will serve, considerable thought had to be given to ensure that a mount that could easily traverse the glossy linoleum of a hospital could also handle multiple depths of carpet pile likely to be encountered in convention centers or other meeting venues.
The team's formula for success? A more-than-ample base of support and premium caster wheels.
A sufficient base of support is not only beneficial in hanging screens; it's also the reason why houses stand erect and humans enjoy the pleasures of being upright. The 56" - 70" TV Cart features a large footprint, preventing tipping, even in top-heavy scenarios. Modern displays have certainly decreased in price over the years, but even so, a simple topple can cause irreparable damage, and no one wants to fork over money because of something that could easily have been avoided. So an extra-wide base is a necessity, but combine that with caster wheels that allow for smooth-as-silk movement across various surfaces, and you've no reason to fret over accidents. Long-lasting, ultra-durable steel construction embodies the entire frame and creates a sleek, stylish mounting solution that looks as good as it performs.
And it performs damn well.
The Best Seat in the House is Everywhere
Features and benefits are the key reasons anyone buys anything, and this cart doesn't skimp on either. Height adjustability should most certainly top a list of things to consider; imagine hosting a conference, but guests in the back can't see your visual presentation because your cart only extends a paltry few feet. With poles that adjust up to 76.97", viewers in any corner of the room won't have an issue seeing the screen. Views can further be enhanced thanks to a mounting bracket that's capable of providing 5° up / 10° down tilt, great for reducing glare or hitting just the right angle for those who may be sitting in risers or elevated seats.
This cart also accommodates the installation of up to two additional shelves situated beneath the screen, which can be adjusted to varying heights. Expanding upon the versatility of the mount by allowing additional storage space for DVD players, computers, projectors, or even just extra room to hold notes and writing utensils is a benefit that is often most appreciated when put into practice because the fewer back and forth trips are a bonus for anyone.
Wheels Seal the Deal
Words are powerful but oh-so-much more when delivered alongside a captivating visual presentation. Whether trying to get your message across to a single shopper on the fence about your latest product or to a room full of investors interested in funding your latest venture, leaving your display screen behind is like leaving money on the table. With a 56" - 70" TV Cart putting a solid mounting solution behind your screen and effortless mobility underneath it, you can make sure always to put your display front and center, where it matters most.