Share
Facebook
Twitter
Email
With the ever-steady dissemination of data filtered down through today's workforce, professionals are finding that while instant access to nearly any detail imaginable when running a successful business can be advantageous, presenting all of those stats and figures in a concise and easy-to-read manner can be quite challenging. More data means more monitors, and more monitors beg the need for a suitable mounting tool. Offices of the past were often faced with buying separate poles for each screen and scouting out ample space for installation, all while ensuring that the end user had sufficient access and unobstructed views. Proving to be cost-prohibitive is an understatement, and workstation surfaces are often pushed to their max as is. Luckily, time and technology have deemed these practices antiquated, and screen housing solutions have evolved to provide products that utilize a singular point of installation that can accommodate multiple screens.
The 6 Track Rail Mount 2x3/Independent Full Motion and Quick Release mount expands upon the best-in-class series offered by the team at Cotytech and spotlights a dependable tool that answers the call of those searching out storage for multiple screens.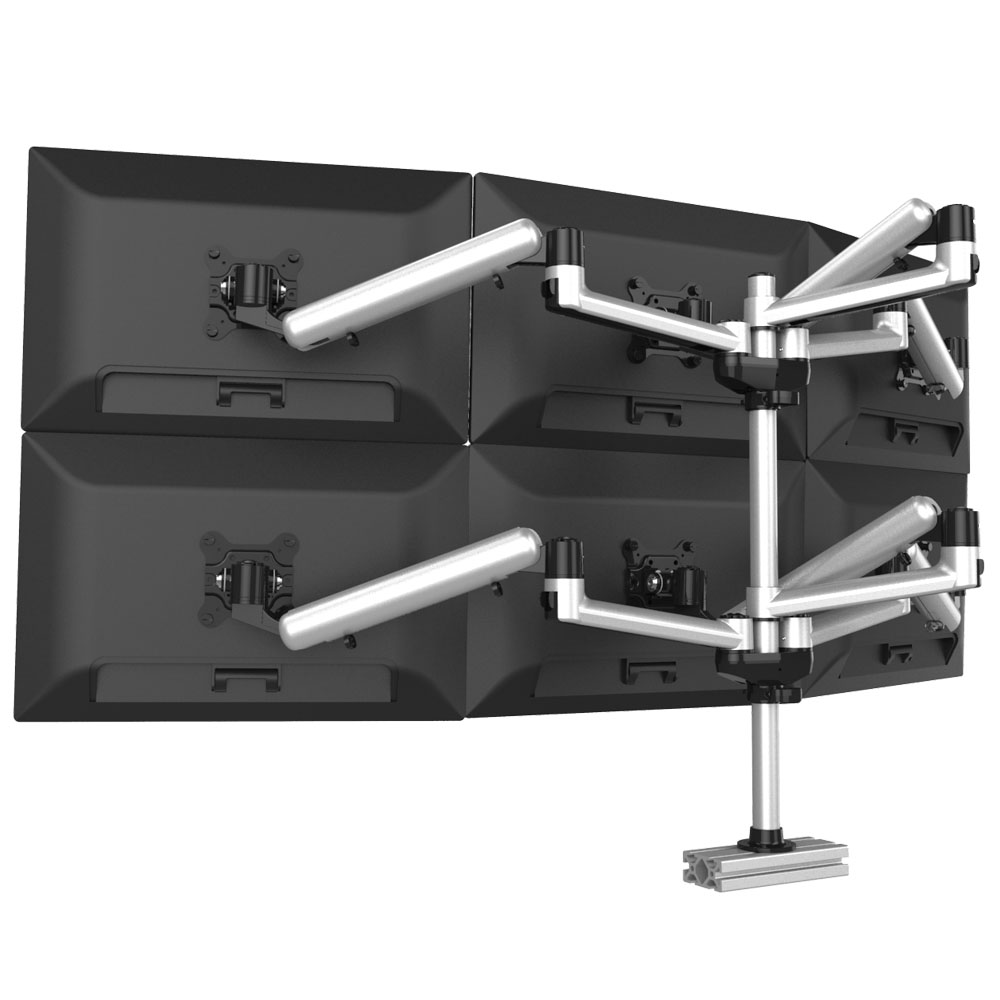 Building a Better Blueprint
Building out the preeminent line of screen mounts doesn't happen overnight, and it doesn't happen by following the status quo. The 6 Track Rail Mount 2x3/Independent Full Motion and Quick Release mount simply wouldn't work as well as it does had it been forced to fit within the archetype established by dual and triple screen designs. 6 screens create challenges, and Cotytech ensured that every necessary scenario was worked through meticulously and addressed accordingly. It all starts with crafting a product that can handle the cumulative weight of 6 computer screens. Creating a mount accommodating screens up to 32" and with an individual weight of up to 9 lbs. dictated the requirement for reliable yet lightweight materials. Solid aluminum fits the bill due to its ability to deliver an incomparable level of stability that will protect costly tech investments without adding any excess weight.
Universal was the need for a sturdy device, but the surfaces on which to display the screens were less predictable. Creating a single point of installation is futile if it only accommodates a small portion of the workspace surfaces in use across the wide variety of industries today. The 6 Track Rail Mount 2x3/Independent Full Motion and Quick Release mount was built from the ground up – literally – and that includes Cotytech's premium 7-in-1 versatile surface mounting array. With so many installation configurations available, it's all but guaranteed that your current office furniture is compatible, as well as any you may purchase in the future.
Also, whether you're currently in the midst of upgrading to a 6-screen workplace or have long been reaping the benefits, one indisputable fact is that 6 screens create A LOT of cables. Cable management is a must, and an onboard cable management system comes stock with nearly every Cotytech offering in existence.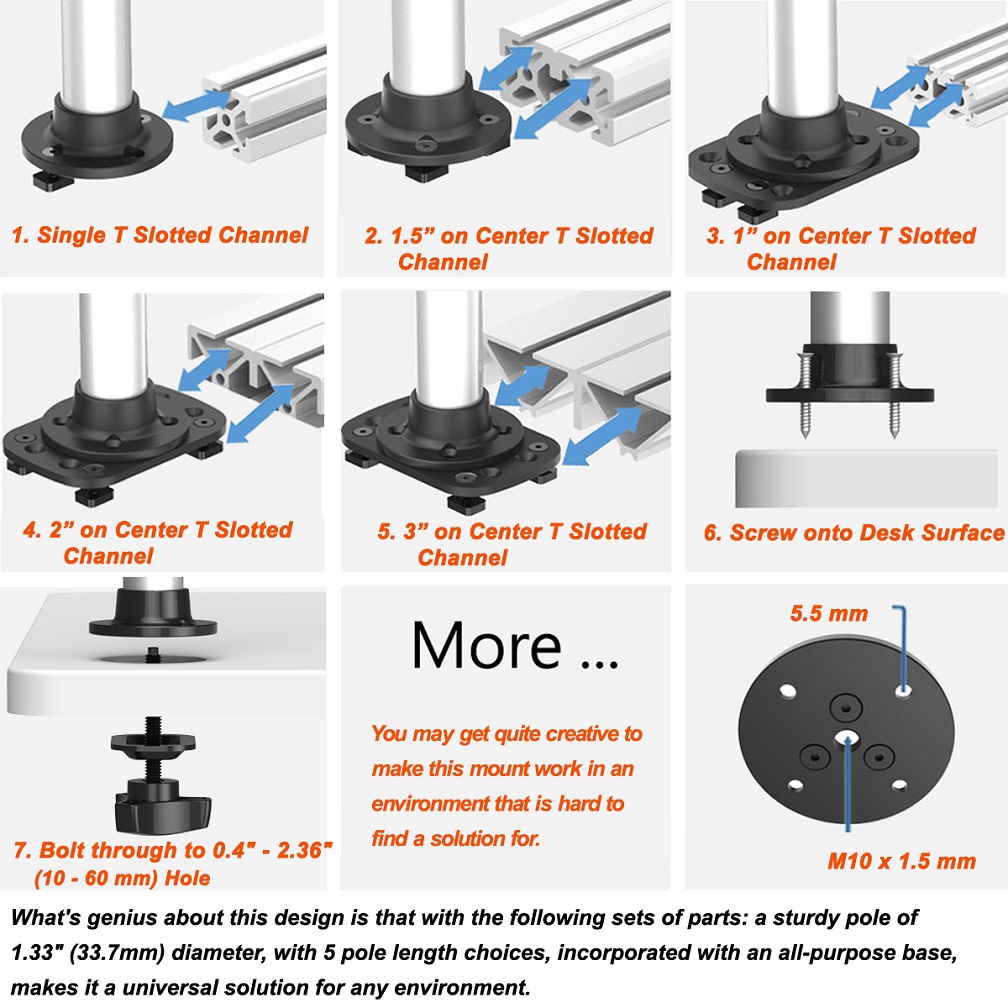 Never a Bad View
All the data in the world doesn't mean a thing if the screen on which it's displayed is difficult to view. The 6 Track Rail Mount 2x3/Independent Full Motion and Quick Release mount incorporates individual brackets, which allow for independent screen positioning. Each bracket is constructed from high-quality materials and features a quick-release mechanism (as do the swivel and spring arms). Push a button and click in or out your monitor, and easily position it through a large degree of motion with tilt, swivel, and rotation functionality. But screen positioning is only one part of improving views. Swivel arms complete up to 30" of extension from the pole, which provides a substantial boost when needing to get a closer look at things. And, for those who want to incorporate their laptop into the 6-screen arrangement, that's made possible through the use of the optional laptop tray.
Workplace comfort is always a concern for management professionals and the teams they supervise. While screen positioning goes a long way in ensuring that crystal-clear views never come at the sacrifice of an employee's health, the effortless height adjustable pole furthers ups the ergonomic benefits. The included 19.7" pole (extendable up to 43.3" through optional purchase) can be raised or lowered instantly, encouraging frequent position changes throughout the day.
6 Screens of Success
Real-world data – the kind of information that successful businesses are attuned to – is often delivered at lightning-fast speed. Considering the sheer amount of it that exists, it's easy to see why multiple screens are more a necessity than a luxury these days. Ensuring those screens are visually accessible and uncomplicated to a position are the foundational desires behind the creation of mounting solutions, but expanding upon that cornerstone and incorporating a versatile 7-in-1 base into a sturdy, lightweight product that goes from box to workstation surface in a matter of moments are the hallmarks of The 6 Track Rail Mount 2x3/Independent Full Motion and Quick Release mount.