Check out questions & answers about this product!
Specifications
Fits most:

22" to 37" flat panels

Weight Capacity:

Supports up to 27.3kg(60lbs)

Tilt:

5° / - 20°

Swivel:

Max 120°

Mounting profile:

3.5" (89.6mm) Depth From Wall

Maximum extension:

16.4" (415.6mm)

Mounts on Studs:

Single-stud

Mounting Pattern:

VESA compliant: 100x100 to 200x200 (without adaptor)
VESA compliant: 100x100 to 400x400 (if order with adaptor)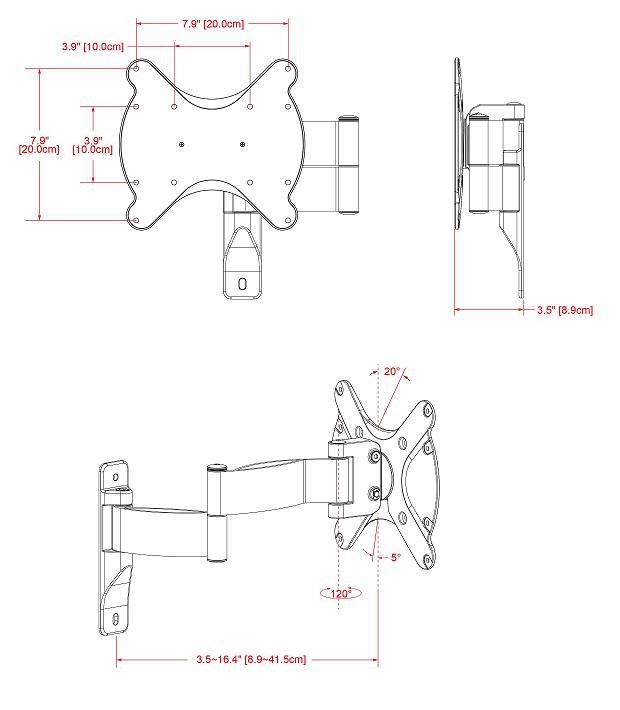 Features
Work with plasma, LCD and LED TVs
Effortless adjustments for premium viewing, making it easy to reduce glare and find the perfect TV angle at any height
Sturdy die-cast aluminum structures maximize support in a lightweight mount; rock-solid construction secures your display investment
Wall piece (the plate connects to the wall) dimensions: 2" (W) X 9" (H)
Space saving; if you plan to mount your flat screen at a corner, this is a perfect solution
Hinged arm extends TV off wall, providing easy access to cables
Easy accessory attachment; quick-mounting design for easy installation
Lock-in-place feature to conclude a secure installation
Aesthetic design makes it perfect for the home or office
Instruction manual and mounting screws are included
Service and Support
Mounting Pattern
You may usually find mounting patterns dimensions on the technical drawing page of your owner's manual. Otherwise you can simply measure from the center of one hole to the center of the next (both vertical and horizontal). Please remember to convert to millimeters: 100mm = 3.94 inches; 200 mm = 7.87 inches; 300mm = 11.8 inches; 400 mm = 15.7 inches.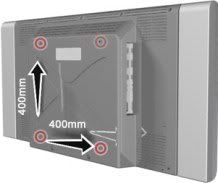 Mounting Holes Adaptor
The 4-piece Mounting Holes Adaptor Kit is only needed when the back holes of your TV measure more than 200x200. The adaptor set will allow you to create mounting patterns of the following: 400x400, 400x300, 400x200, 300x300. If you have any questions, please feel free to contact us.
Product Description
The unique and creative Corner TV Wall Mount - Full Motion 22 – 37" MW-3A3B has 3 pivot points. The TV mount can achieve best viewing positions by full motion functionality and it is especially ideal for corner mounting (works great on non-corner too!). The wall mount solution has weight capacity of 60lbs (27.3kgs), featuring 5 - 20 degree tilt, 180 degree swivel & 16.4 inch full extension. This flat screen swivel TV wall mount boasts integrated strength through the latest engineering technology, and is tested for durability in our offshore manufacturing plant. The corner wall mount has been built with the end user in mind, and features easy installation while offering intuitive, practical & functional design from one of the leading manufacturers of wall mounts. If you need more information about how to select TV wall mounts please click here.
Corner Installation Demonstration Images

When placing corner wall mount on the right side of the wall, flat screen TV can be extended leftward to be positioned at the center of the corner. After viewing, TV can be stored away flush against the right side of the wall.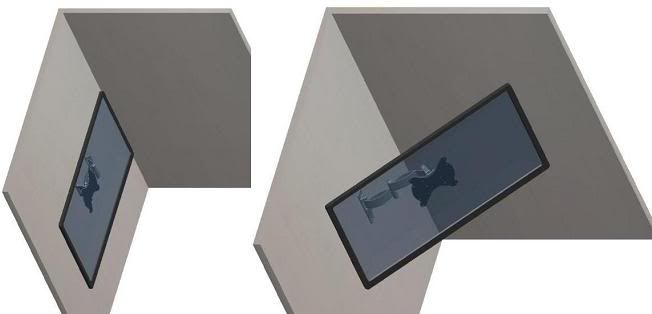 When placing corner wall mount on the left side of the wall, flat screen TV can be extended leftward to be positioned at the center of the corner. After viewing, TV can be stored away flush against the left side of the wall.

Click here for other corner mounts choices.
Downloads

Installation Manual
These downloads require Adobe Reader. To get Adobe Reader click here.
Q & A
Q: What are the sizes of the screws included?
A: The ones for the wall are M6 X 60; The ones for TV included are M4, M5 and M6. Each comes with 20mm and 40mm in length. There are plastic spacers included as well.
Video